SERIOUS FAMILY FUN!
Wilmot Mountain Snow Tubing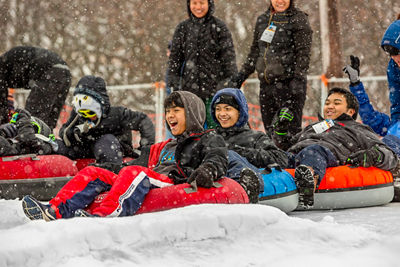 FEEL THE THRILL
Grab your Winter gear and bring the whole gang for the best family adventure around - Wisconsin snow tubing.
Snow Tubing has quickly become one of the fastest growing Winter activities and it is easy to see why. No need for a lesson, because all you have to do is grab a tube, have a seat, and let gravity be your friend.
Wilmot Mountain is a top snow tubing resort near Madison and Milwaukee. We provide guests with tubes to go down the hill and 2 surface conveyor lifts to take you back up. That way all of your energy is saved for the excitement and fun! Wilmot Mountain's tubing area has 22 lanes of over 1,000 ft long. And once you have done a few runs down the hill and are looking to warm up for a while, join us in the tubing lodge for a snack, a drink, or just to watch the excitement from our deck overlooking the whole area.
Hats and goggles/sunglasses are recommended.
The Snow Tubing Area is located half a mile south of the main ski and snowboard entrance, at the intersection of County Hwy CK and Hwy W. We are in close proximity to Chicago, Milwaukee and Madison.
*Tubing tickets may sell very quickly on weekends and holidays. Make sure to plan ahead if you plan to come. Must be 42" tall to tube. All tubers must be in individual tubes, lap sitting is not permitted. If the date/time states it is sold out, there are no more tickets for that session.
Hours of Operation
Opening and closing times may change throughout the season. For the most up to date information view our Hours of Operation page.
View Current Hours
Know Before You Go
Inside access is limited to warming, retail, and bathrooms only. Masks must be work indoors. No food & beverage services available. Eating or drinking indoors is not permitted. Please come prepared.
Please email wilmotmountaininfo@vailresorts.com for any guest service inquires.
*Hours are subject to change at any time.
Winter Activity Waiver
All tubing participants must fill out the winter activity waiver.
If you purchase online, this will be a part of your ticket purchase. If you are purchasing at the ticket window, you will be filling it out in person.
This waiver must be signed by someone who is 18+. The waivers for anyone under the age of 18 must be signed by a parent or guardian who is over 18.