Wilmot Parking & Resort Transportation Guide
Getting Here & Parking
Previous tab
Previous tab
Parking at Wilmot
Ski & Snowboard parking is located anywhere in the main lot by the ski lodge. Ski & Ride School has a small drop off area and short term drop off parking by the Ski & Ride School. During busy days, follow the directions of parking attendants.
Tubing parking is located at the Tubing Lodge located ¼ mile South of ski lodge entrance on Fox River Rd.
| Wilmot Ski/Ride Parking Lot | Wilmot Tubing Parking Lot |
| --- | --- |
| 11931 Fox River Rd., Wilmot, WI 53192 | 12301 Fox River Rd., Wilmot, WI 53192 |
Looking for something specific in our base area? Check out the base area map for where to go!
Please note - Not all locations may be operating, to be used for wayfinding only.
Looking for a day trip for the family or a maybe a weekend excursion? Wilmot Mountain is just a short drive away and the closest Ski resort to Chicago.
Located on the IL/WI state line, Wilmot Mountain is an hour north of Chicago and 45 minutes south of Milwaukee. We also have several local hotels near our location.
PHYSICAL ADDRESSES:
Skiing/Snowboarding: 11931 Fox River Rd. Wilmot, WI 53192
Coordinates: 42.499112984070415, -88.18763874425741
Snow Tubing: 12301 Fox River Rd. Wilmot, WI 53192
Coordinates: 42.495704082004714, -88.19450123076369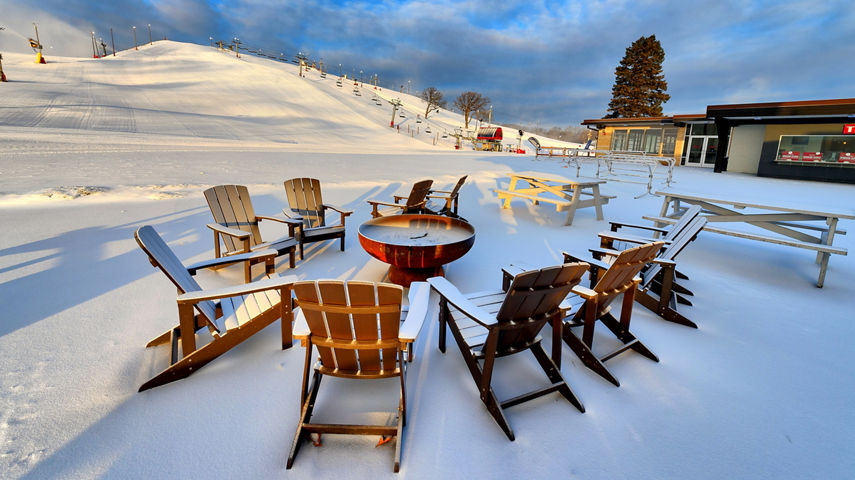 Nearby Airports
Arriving By Air
Located 60 minutes south of Wilmot Mountain
Located 90 minutes south of Wilmot Mountain
Milwaukee Mitchell International Airport
Located 50 minutes north of Wilmot Mountain
Once you have landed, the best option for transportation to Wilmot Mountain is using a rental car service or a ride-share service.
RIDE SHARING SERVICES
There are many ride-share services available in the city to bring you to Wilmot Mountain. However, your options to get back to the city are very limited.
We recommend scheduling your return to the city in advance.
LUGGAGE AND SKI SHIPPING SERVICE
Avoid the hassle of carrying and checking bags by sending your luggage and sports equipment ahead with LugLess, the official luggage and sports equipment shipping service of Wilmot Mountain. Arrange your shipping booking online.
Highway Updates
Follow the Wisconsin and Illinois Departments of Transportation for all highway related information and condition reports.