The Ultimate Wilmot Guide
What to Wear
One of the best ways to ensure a positive experience is to dress appropriately. Staying warm and dry will help keep you comfortable, safe, and having fun!
Dress in layers! You can add or remove as needed.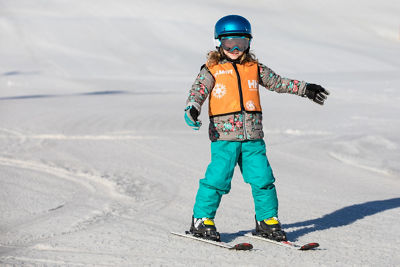 Base Layers: This is the layer that will lay closest to your skin and provide insulation. Wool or synthetic fabric is recommended. Cotton is not ideal. A thin pants layer on the bottom and form-fitting long-sleeves on top.

Mid-Layers: The second layer is your mid-layer. An insulator jacket or fleece is a standard mid-layer because it is appreciated for its warmth and comfort.

Outer Layers: This is the layer that will help keep you dry and protect against wind. You will want a waterproof jacket

Snow Pants: Similar to the outer layer on top, a waterproof outer layer on the bottom is key to staying dry and warm. Insulated pants are recommended.

Socks: Thin, warm, and long, well-fitting socks are key! This is insulation for your foot and calf under your boot. Wool or synthetic fabric is recommended to help wick sweat and moisture away. Cotton is not ideal.
Pro Tip: Wear only ONE pair of socks! Extra socks will over-crowd the boot, restrict blood circulation, and won't help keep you warm.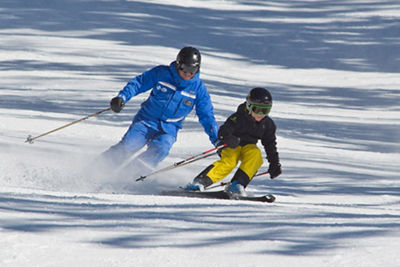 Gloves or mittens: Waterproof gloves or mittens are a must on the hill. Go with something insulated or find a thin glove liner to wear as a base.

Goggles or sunglasses: On a warmer and sunnier day, sunglasses will work fine. On colder, snowier days or at night we recommend goggles to protect your eyes.

Winter Sports Helmet: Not only will a helmet keep your head safe, it will also keep you warmer than a hat will! Helmets are required for all lessons. If you don't have a helmet, we rent them!
Pro Tip: On especially cold days, a thin beanie under your helmet will help keep you even warmer. Nothing bulky or with poms though or the helmet won't fit properly.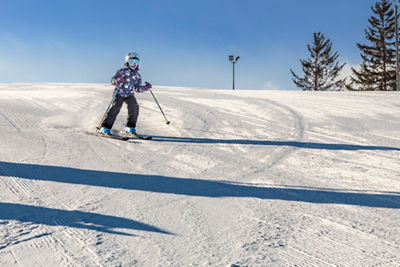 Sun protection: Even when it is overcast, it is important to protect any exposed skin from the sun. Remember to reapply every 2 hours!

Change of clothes: In case your clothing gets wet or you want a warm set of clothing to change into after your lesson.

Neck warmer: Recommended in colder temps. You can purchase one in the Retail Shop.

Snacks: Make sure you have the energy to be great out there! Our Grab and Go in the Main Lodge has a wide selection of snacks that are great to sit down and eat, or throw in a pocket and have out on the slopes!

Learn More

, opens in a new window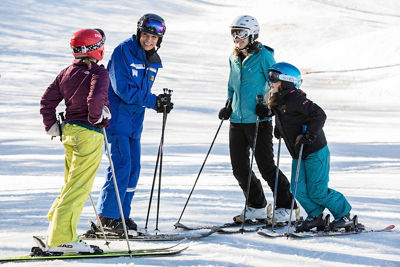 Rent Online and Save!
Carve through the heartland with a more convenient way to rent equipment. Wilmot offers online rental bookings this season, saving you both time and money. Book your rentals today!
Hours of Operation
Opening and closing times may change throughout the season. For the most up to date information view our Hours of Operation page.
View Current Hours
Previous tab
Previous tab
How To Ski Part 1
How to Put on Ski Boots | Parts of a Ski | Getting In and Out of Skis | Tips to Carry Skis
How To Ski Part 2
First Movements on Snow | Side Step & Duck Walking | How to Get Up
How To Ski Part 3
How to Turn | How to Stop | How to Load a Chairlift
How To Snowboard Part 1
How to Put on Boots | Parts of Snowboard & How to Get In | Snowboard Stance | Tips to Carry Snowboard
How to Snowboard Part 2
How to Skate & Glide | How to Stand from Sitting | How to Climb Uphill
How To Snowboard Part 3
How to Stop | How to Turn | How to Ride Chairlift