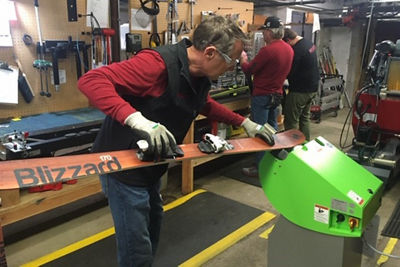 We've Got You Covered
Offering services such as sharpening, mounting, hot wax, adjusting, and more!
Plan ahead and bring your gear in for repair and tuning! To ensure having your equipment ready to get out on the snow, drop it off at least 24 hours before you will need it. Will you be coming back next weekend? Leave your gear with us through the week and pick it up when you come back!
Drop-off, pick-up, and payments will be at the Retail Shop in the Main Lodge.
*To guarantee availability for service, please call prior to dropping off equipment. See below for contact information.
Pricing
Service
Description
Rates
Full Tune (ski or board)
Includes Base & Stone Grind, Edge Sharpen, & Performance Wax
$65
Quick Tune (ski or board)
Includes Machine Side Edge Sharpen & Quick Wax
$36
Quick Wax
Universal Temp Machine Wax
$17
Performance Wax
Manual Application, Iron In, Universal Temp
$26
Edge Sharpening
Base & Side Bevel
$26
Snowboard Mount
Includes Binding Mount & Degree Angle Set
$15
Ski Binding Adjustment
Includes Forward Pressure, DIN Set, & DIN Test
$26
Ski Binding Mount
Includes Drill, Mount, Forward Pressure, DIN Set, & DIN Test
*Binding manufacturer dependent
$65
Misc Labor/ Service Work
Speak to department to identify if they are able to do work requested
$15 per half hour
Hours of Operation
Opening and closing times may change throughout the season. For the most up to date information view our Hours of Operation page.
View Current Hours